Italy has a lot of beautiful places to visit and I don't mean only Florence and the Tuscany country side, Rome or Venice. From North to South, East to West, Italy is full of treasures to discover!
Most of you already know Sorrento and the Amalfi coast.
Some good reasons to choose Sorrento and the South instead of the usual tourist destinations (not that Sorrento, Positano or Capri are unknown!) are:
– the sun, beautiful beaches, blue sea and unisìque landscapes
– good food, good wine… pasta, pizza, mozzarella, oil, basil, lemon (limoncello)…
– Sorrento has a strategic position… in less than 1 hour you can reach Pompei, Vesuvio, Naples, Amalfi Coast, capri and Ischia
– the people is very friendly and will treat you as member of their family. They are open and charmant! they scream, talk out loud, move their hands while speaking!
– you will enjoy the italian Dolce vita…
– it's the perfect destination for relaxing holidays…In the south time is so slow…
– the perfect place for shopping… artisan sandals and clothes. Whatever you are looking fpr you will find it in Sorrento!
– and many other reasons that you will find by yourself once you get there!

Now let me present you "Don Alfonso Relais", in Sant'Agata sui Due Golfi just 10 km from Sorrento.

The restaurant and hotel are right in the center of the village, on the street corso Sant'Agata, at house 13, and they are both gourmet holiday institutions on the Sorrentine Peninsula.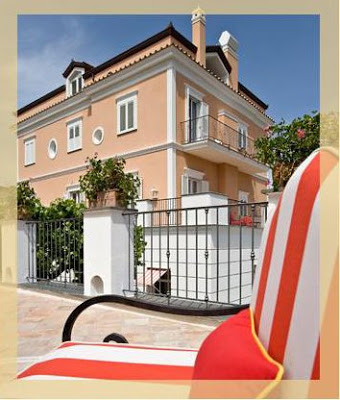 All the suites has a name of an herb or epice
Maggiorana (marjorama)
Lavanda ( lavender)
Menta ( mint)
Timo (thyme)
Verbena
Salvia ( sage)
Rosmarino (rosemary)
La casa del Poeta ( the Poet house)

The perfect Look….
1) Emmanuelle Khanh Vintage Rounded Frame Sunglasses ( farfetch.com); 2) Bow Sandals (yesstyle.com);
3) Juicy Couture Striped Bathing Suit; 4) Paper Plane Wash Bag ( totally-funky.co.uk);
5) Large Straw Stripe JLO Sun Hat (e4hats.com)
Please send me a post card once you get there !!! I adore receiving them!!!
So ladies…the end of the week…
see you there, be ready !!!