Monday again! Sunny weekend, first day at the beach after a long long winter, my granny's birthday and a lot of work! And your weekend?
What's "A coupe de foudre"? It's the french translation for "love at first sight" and it's the perfect quote that explain my feelings about that magnific home in Normandie with a terrific and decadent garden.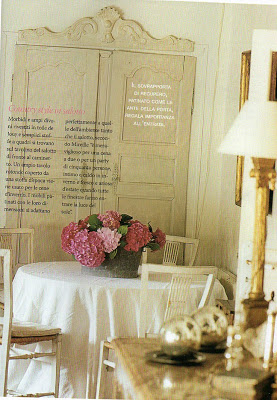 There are few main themes that we found again and again in every rooms: old furnitures, striped and with a shabby style and the colors : ivory, white, grey. White is perfect to uniform all the furnishings even if the materials and the styles are different.

Grey furnitures and red Toile de Jouy fabrics are the best match ever. Don't you think?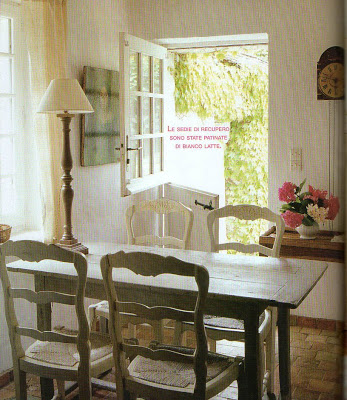 Mireille, the owner, found most of the furnitures at the antique marquet or "brocantage".
French are the best when we talk about brocantes. I've never visited markets like the ones I've visited in France. Price are good and you can really find unique things!

I have a particular love for chicken wire and I'll tell you why very soon!
It's used for furnitures to give them a country flavour.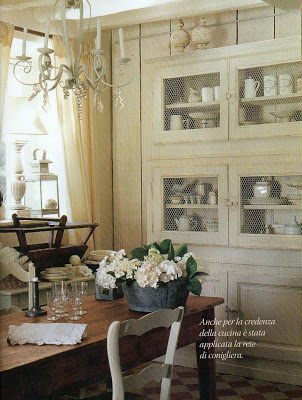 Object de Charme in evEry corner…

Details make the difference. Silver pots, porcelaine jars, ivory handle flatwares, lots of flowers everyehere characterize the spaces.

Red is the only touch of color in the house.

Cages and old vases decor gives to the garden a romantic touch. Have you ever seen "The Secret garden", the movie?


(Casa Chic – March 2009)