WOW IT'S FRIDAY!!!
I'M TIRED…
I NEED SOME BREAK AND THIS PERFECT BUSY WEEKEND IT'S WHAT I'M LOOKING FOR!
Sono stanca… ho bisogno di un break e questo weekend pieno di impegni eccitanti è quello che aspettavo…
FRIDAY:
8.00: Dinner
4 talented ladies…
SATURDAY:
train to Milan at 9.40
2 friends
1 mummy
Plan…
Find THE dress…
Task…
Have fun!!!
EXCITED…..
SUNDAY:
Train to Florence
1 little princess
1 husband
1 camera
lots of guest
Plan…
Celebrate Ginevra's Baptism…
Task…
help my friend setting tables etc & lots of pics
EXCITED!
AND YOU?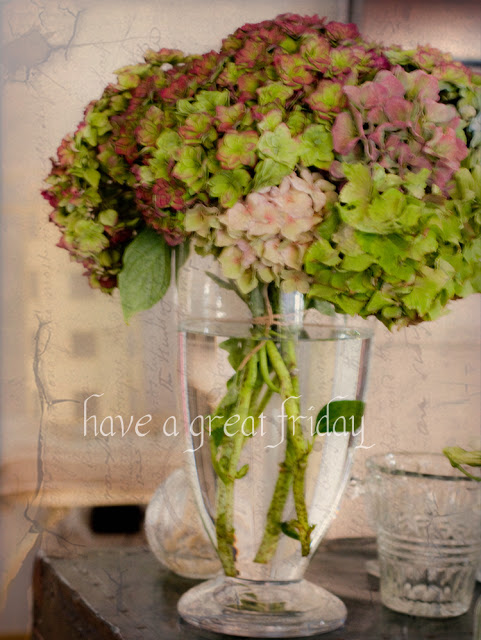 you know why I love fall?
Because of his colors…
Look at my Hydrangeas (my fav flower wIth peonies…)!
Aren't they beautiful?
They have all the colors I adore…
Sapete perchè amo l'autunno?
Per i suoi colori…
Guardate le mie Ortensie ( mio fiore preferito insieme a Peonie etc…)
Non sono bellissime?
Hanno tutti i colori che io adoro….
Have a terrific weekend you all…
Buon fine settimana a tutte voi!
Please forgive me…
Next week I'll come back visiting you often, reading your amazing posts, talking with you…
Per favore perdonatemi…
La prossima settimana tornerò a visitarvi , leggere i vostri post (che mi sono mancati!), parlare con voi…
Still have to do lots of things:
Write an Article (almot ended) … Mimy, you are so patient!
Work on my photos…
Prepare some bracelets…
Ancora tante cose da fare:
Scrivere un article ( quasi finito!)…
Mimi
grazie per essere così paziente!
Lavorare alle mie foto…
Preparare e spedire dei braccialetti…
Thanks God It's Friday!
See you on Monday!
LOL