Fede made me discovered this treasure…
In Provence, France, you can find little corner of heaven. Unknown places, small villages, beautiful country side. great wine and great food…
This time I want to introduce to you "La Madone – Maison d'Antique"

This is a special place, once a convent, now an hotel situated in the heart of Apt en Louberon, between Avignon and Aix en Provence.
5 comfortable apartments for rent, full equipped for a unique experience!
They are Lin, Chanvre, Baroque, Contemporaine
The new born apartment is Renaissance (the King of France and family lived here!)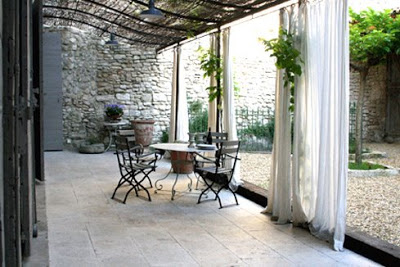 Go visit the the blog of the owner Nathalie and Jean- Bernard. It's in French, for some of you
could be a problem, but the images worth it!
p.s.: Sorry girls for the lack of comments on your blog but it has been a busy week and I did my best to say hello to you everyday. I promis I'll make up for lost time this weekend…My boyfriend is out of town with friends and I could spend hours "with you" without make him upset!!!
Had I already thank you for your friendship? For being present every day?
THANK YOU!