When I started this "project" I thought that, the most difficult things, it would have been to visit daily etsy to choose my faves stores… Fortunately, I'm still doing my research on etsy but, till now, I've received your emails with your description of your etsy stores and the pics of your objects.
I'm so happy about that because it means that you follow me and you appreciate my blog: that's the most important things to me!
I'm delighted to have you as my one day's Guest Star on my world!
This week my Etsy store is "PaintedByRenee's"

Renee wrote me a sweet email about her store and she ended it with " I don't think you'll be disappointed" and she was totally right!!!
Her letter was so passionate, she described her life and her job with so much love that you could feel her enthusiasm for what she does. Thank you Renee! You have been really kind to me!
She's native Californian, a self-taught artist, wife, mother, grandmother… She has been creating and painting for over 40 years … but she's still a beauty young Lady!
Renee's world, Painted by Renee, is made of lovely French paper goods including French Art Tags, Bridal Party favors, Custom Design Works and much more!
French Manequin note cards
Haindpainted petite mini journals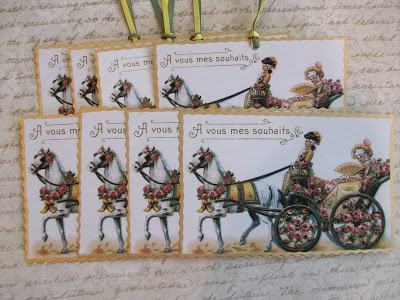 Horse and carriage cards and tags set

Bonjour Marie Antoinette -Large Tags
Christmas Tags
… and many other more! She has the perfect gift for christmas don't you think!?
I'd love some tags and cards…
Discover it!
If you desire to be featured in my Etsy project feel free to send me an email at
[email protected]
My next step… I'd like to be the Host for your giveaway… send me an email if you want!It would be an honour for me!
I don't know if I'll be able to write another post within Sunday… Tomorrow I take a train for visiting a friend that lives 3 hours from my city and I'll be back Saturday afternoon just in time to celebrate Mr B.'s Birthday, I'll give him all the presents! I hope he'll like them!
Sunday lunch with his family and in the afternoon I hope to see my friends for a cup of the and some good chat and maybe I'll come to visit you!
For now… Have a great weekend! See you on monday!
p.s.: this evening I've participated to the book presentation of
Steve McCurry
a famous photographer… He is also a National geography photographer. One of his most famous image his the one of the afghan girl…

Fantastic! What an experience! You should visit his website!
Goodnight and have a terrific weekend!
Don't forget to Stop by Renee's etsy store…