Here I am… back with my Etsy favourite store of the week.
It's time to introduce you to Kris and her new store that she has just opened.

I've met Krisalmost at the beginning of my blogAdventure and we started exchanging comment on our blogs and then some nice emails.
She from New York and I begun to follow her because on her blogs Behold the Metraton she was giving great tips about her city, that is the city I love the most.
Then I've started to follow her because we have many things in common, one above all is the love for food, the love for kitchen, the love for a good glass of wine and for a dinner with friend!
I really like her and when she opened her etsy store I was thrilled. I think she 's really talented and I'm happy to "help " her in her new adventure!
I asked her to describe herself and her new adventure.
She says…."I am a writer-producer for Vh1 by day, and a graphic design student, cook, and jewelry maker by night. So many things, so little time but that's life! I like to stay challenged by always engaging in fun and creative projects. In my spare time (ha) I like to go out with my boyfriend, cuddle with my kitty Martin, take pictures of nature, and watch TV shows. Lost, The Office, and Top Chef are my favorites.
Her Etsy Store "…is all about earrings at the moment. Earrings are my staple choice when it comes to jewelry. Some women can't leave the house without their lipstick or a cute handbag. I need my earrings! I like to use fun beads and jewels that dangle off the ear. The perfect accent for a cocktail dress or a white t-shirt and jeans. The styles are universal! I also like to take broken jewelry that I've had for years and re-work the usable bits into a new and fabulous look. My earrings are simple, and prices that I feel go with the times for handmade goods. One day I'd like to add hair pins, brooches, and art work to the site. But that will take some time."
And I look forward to see her next creations and her next challenge…
Congratulation Kris…. and you out there go visit her Blog and her store!
If you desire to be featured in my Etsy project or do you have an online store and do you want me to write about you feel free to send me an email at
[email protected]
Now it's time to say Thank you to:
Duchess from Rose Tea Cottage for her Award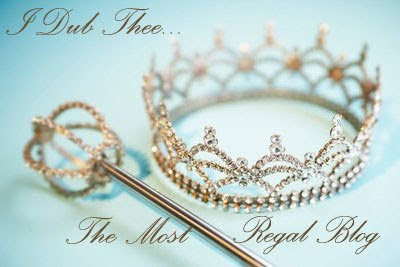 and she wrote :
"Her Grace The Duchess of Tea, has appointed the following blogs and their charming writers as Honorary Nobles of the Most Excellent Order of the Blog Empire.

This insignia is in recognition and appreciation of the bloggers role as followers and daily commentators of Rose Tea Cottage and for having creativity, vision, knowledge, charm and humour on their own blogs. Naturally, this recognition is not transferable and is solely intended for the bloggers named herein. Please click on the award to be able to copy and paste it."
Meghan "we are in business lady! Giveaway has begun! "
Go check out her blog (theperfectcompilation.blogspot.com), she's hosting a giveaway to celebrate her blog new look and style.
The gift is one of my headband.
The rules are simple…leave a comment on her blog, became her and mine follower and…cross finger…
Hurry up! Contest close Febryary the 2st
Elena from Catching Instant …
see with your eyes what she've done…
"Friends that can teach you to wear two dotted scarves at the same time …"
Bells (she's getting married in 4 months and 30 days)… for your long time ago award!
10 random things about me…
I have 2 brothers Simone and Jonatha.I'm in the middle.
I have an angel to protect me
I'm obsessed with pois/dots
I love my Lensbaby
my fav colors are: white, blu navy, tourquouise, purple, mustard yellow, green, grey, brown, pink…
I adore to bake, cook and have dinner
My fav room is the kitchen (obvious)
I love my Pink Kitchenaid
…
(2 left!)
Goodnight!