Back to the Antique market!
After a month of break a new season of markets has begun.
Every second weekend of every month it will be punctual at my door!
Last week I had an "home accident"…
I have broken some of my "glasses". A total mess and you can't imagine the pain!
They were with me since I moved with Mr B.!
So…
I waited for the weekend to find some new glasses footed cake plates and vases to replace them!
I've found 2 beautiful early '30 cake plates and a cute vase and the best thing is that I made a great bargain!
I use them a lot, to serve cakes and to set the table when my friends come to dinner!
I felt so terribly when it happened…
And I was so happy when I took home my new glasses!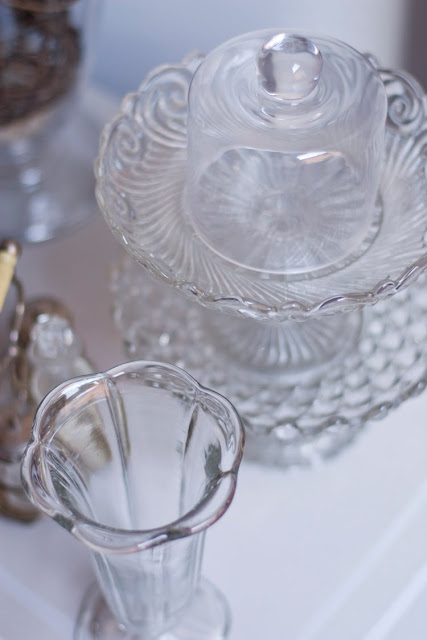 Aren't they cute?
They are really beautiful and they make more beautiful and "elegant" my trolley!
Then , nosing around on a sunny day I've made another bargain…
Not for the price…
but for the item itself…
My last name starts with a B
Mr B has a B
B is for … my friend's daughter name
B is for … a "princess name"
B is for … dad in italian
B is for … beautiful
I've found a D too… for Mr B!
The Big Capital B has already found a place on a black wool cardigan sweater…
look forward for more finds!
Aren't you?
Now it's time for a giveaway…I'm not throwing a giveaway but I want you to participate to
MIMI'S GIVEAWAY
Mimi is a great lady of the house
You can find her at Bonjour Romance and from tomorrow also here
at her new creation
Belle Inspiration e-Magazine
and the giveaway is for celebrating the launch of the first issue that is online right now!


I'm honoured and so pleased for having her here.
She gave me the opportunity to help her (I'm one of the collaborators) and I'm thrilled to see the final result!


I've asked her to answer to two questions…


Why an e-Mag?
I think it is the wave of the future. It is easy to use, and you have the ability to view images across two pages, without the middle crease. Zooming in and out helps you see each detail. You are able to click on the links and go directly to the sites and blogs of advertisers and contributors. An e-Magazine offers a full and unique experience.

What Belle Inspiration is about?
About a romantic style of living with an emphasis on keeping it all practical. Beautiful images and interesting articles. We want to provide a place to create, share and embrace l'art de la Vivre!

Her motto is
"Put a little ooh la la in your life"
finger crossed for you Mimi!
Thanks a lot (as you said) for your friendship most of all!
I know that you'll love it!